Local History
Sturgess Barns are a part of a beautiful old farm complex covering half an acre of land.
Sturgess Barns
Sturgess Barns are part of a beautiful old farm complex covering half an acre of land. Until recently Sturgess Barns were still an operational Small Holding. The barns that used to house sheep, cattle and even turkeys are now beautiful holiday homes!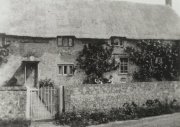 The Farm gained its present name in around the middle to late 1700's when in came under the tennancy of one Dennis Sturgis. The Sturgis Family would have been well known in the area and were probably a very influential family. They held the tenancy to several working farms, tenements and even three inns in the area.
Dennis took over tennancy of the farm in 1738, and it is from here that the name of Sturgess Farmhouse most likely came – with the Farm being known as "Sturgis's Farm" whilst Dennis was in residence!
In 1892 Sturgess Farmhouse was inhabited by a new family – the Hintons. William Hinton was a farmer and a coal merchant (see picture opposite), His wife Elizabeth was a full time mother (and nine years his senior!) – together they had a total of ten children (3 boys and 7 girls), who themselves went on to have children that also spent much of their lives in Sturgess Farmhouse.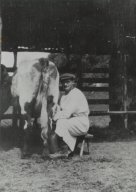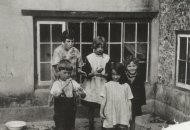 The farm at this time had land amounting to 1 acre and 2 roods, a very fair size!. It still had its thick thatched roof and several outhouses. William worked the Farm whilst the Hintons lived here – keeping mostly livestock, and growing vegetables in the garden.
The children when not at school or helping their parents will have had plenty of time for playing on the Hills behind the farm – up in the rainwater lakes on Cow Down, or blowing bubbles in the back garden.
Around the Farm today still looks remarkably similar to the Hintons time. And although there are no longer cows wandering the lanes outside, there is still the peaceful tranquility that William and Elizabeth must have enjoyed all those years ago!