Welcome to Sturgess Barns


STURGESS BARNS self catering holiday lets are close to Longleat Safari Park, Stonehenge, Messums and Hauser & Wirth galleries and Arts centres, Stourhead House and Gardens, The Newt Gardens, Salisbury, the City of Bath and Thomas Hardy countryside. Built during the 18th and 19th century, these barns have been used until recently for their original purposes - storing hay and housing cattle.
The Stable
This cosy, but not small, middle barn was once a stable for working horses; the oak horse bridle storage brackets are still in place. The entrance from the drive leads into the open plan Kitchen and sitting room.
The Cow Byre
Entrance from the drive into an open plan Kitchen and sitting room area with many of the original barn features restored including the brick kitchen floor and massive oak beams.
The Hay Barn
Overlooking the stream or across the lane onto two thatched cottages, this is the largest of the three barns. Entrance from the drive is onto the very spacious open plan Kitchen and living room area with french windows at the back leading to a private stone walled garden area.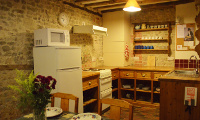 All the barns have fully equipped kitchens.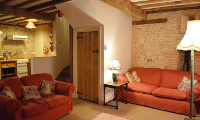 The sitting rooms are cosy and welcoming.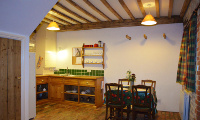 The dining areas are spacious and comfortable.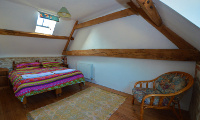 The character of the barns extends into the bedrooms.
Our 4th time here. Again not disappointed. Thoroughly enjoyed ourselves. Thanks for your kind hospitality.

Marjorie McKoy and company of 8! London.
Lovely cottage, the website doesn't do justice. Very clean & comfortable. Lovely visit.

Deborah & John Shipley, Derbyshire.
Up to usual high standards. One of our favourites. Always come back.

Isobel McElheron, Cheshire.